INDUSTRY
LEADING
in occupational health and safety
Operations and Trades | Jobs at Husky Energy
As one of Canada's largest integrated energy companies, Husky relies on its skilled workforce to safely construct, operate, and maintain all its facilities, across every business segment.
Opportunities
Control Room Technician
Electrician
Field Operator
Gasfitter
Instrumentation Technician
Maintenance
Marine Technician
Millwright
Pipefitter
Planning & Scheduling
Power Engineering
Production Technician
Warehouse Personnel
Safety & Environment
Safety
Husky delivers operational reliability while strengthening its safety record through rigorous occupational safety programs and ongoing improvements in process safety, including clear procedures and workforce education.
All "loss" and "no loss" (near-miss) events are tracked at Husky. Investigation results, action items and lessons learned are used for safety alerts, statistics reports, risk analysis, management reporting and training development.
Environment
Husky is committed to minimizing its impact on land and habitat, air and water, which is in line with efforts to achieve continuous improvement across all segments of its business.
The Company closely monitors the impact of its operations and actively seeks ways to mitigate and further reduce its environmental footprint in a number of operational areas, including:
Land and Habitat
Pipeline Integrity
Spill Management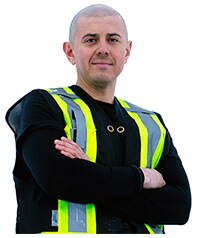 "I started with Husky as a summer student, after receiving one of its Power Engineering Scholarships from Lakeland College in Lloydminster. I'm now a Plant Operator at the Edam East Lloyd Thermal project, supporting the growth of Husky's thermal business. It's great working for a company where the culture is to always put safety first. We start every morning meeting discussing safety, so it's the first thing on my mind. Another one of my favourite aspects of working at Husky is the diverse environment, as I get to work closely with people from around the world. Husky supports my growth within the company as I plan to pursue a higher class power engineering certification. I love being a Plant Operator; there's lots to learn for a new guy!"
Carlos Elizondo-Sigala
Plant Operator
Edam East
Notice
Beware of False Recruitment
Husky Energy's hiring process includes an interview with a Husky employee before any offer is made. Individuals selected for the formal hiring process will be contacted directly by Husky and an interview will be arranged.
Husky is aware that some job seekers receive false employment offers from individuals or organizations posing as Husky. These individuals or organizations posing as Husky may ask for money, ID, passport, or other personal contact information. Husky does not ask for this information from job seekers.
If you have any questions or concerns, please email hr.recruitment@huskyenergy.com.