Our
Locations
where we operate and you grow
Work Locations
Choose from the list below or explore our interactive map to learn more about our locations.
Western Canada
Calgary
Lloydminster
Prince George
Sunrise Oil Sands
Other Canadian Locations
USA
Lima and Dublin
Superior, Wisconsin
Notice
Beware of False Recruitment
Husky Energy's hiring process includes an interview with a Husky employee before any offer is made. Individuals selected for the formal hiring process will be contacted directly by Husky and an interview will be arranged.
Husky is aware that some job seekers receive false employment offers from individuals or organizations posing as Husky. These individuals or organizations posing as Husky may ask for money, ID, passport, or other personal contact information. Husky does not ask for this information from job seekers.
If you have any questions or concerns, please email hr.recruitment@huskyenergy.com.
Western Canada
Calgary
Live.
The thriving city of Calgary, located in the province of Alberta, has a population of 1.2 million. Calgary is the largest city in Alberta and fifth largest city in Canada.
Work.
Husky Energy has its headquarters in downtown Calgary with approximately 2,000 employees in the corporate office.
Play.
Calgary offers a wide array of activities for every interest and age group. The downtown core is an area for great shopping, dining, arts, culture and music. Some popular attractions throughout the City include the Spark! Science Centre, Calgary Zoo, Canada Olympic Park, Heritage Park and Calaway amusement park. Calgary is also home to several professional sports teams, and there are a multitude of seasonal activities available year-round in the magnificent Rocky Mountains, which are just a short scenic drive from the City.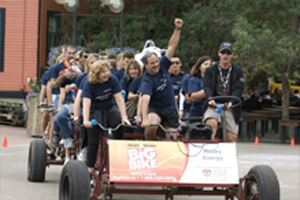 Husky Has Heart
The Husky Has Heart employee giving campaign raises over a million dollars each year, supporting more than 25 agencies in five regions. The charities are selected by employees, who made personal donations and staged creative events in order to raise money each year.
Lloydminster
Live.
Lloydminster is known as Canada's border city, straddling the provincial border of Alberta and Saskatchewan, with a population of approximately 30,000 people. Here you can find many amenities, with a family focus.
Work.
Lloydminster offers employment in both Upstream and Downstream, including a heavy oil upgrader, a co-generation power plant, an ethanol plant, an asphalt refinery, a logistics centre, pipelines and the Company's heavy oil operations. Husky is a significant employer in the Lloydminster area with a community of 1,200 employees.
Play.
There are many amenities available, including access to recreation sports leagues and community colleges.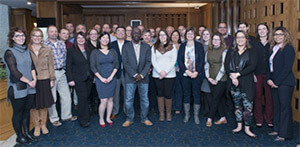 Husky has a Diversity and Respectful Workplace Council where employees from across the organization support the goal of creating a respectful and inclusive work environment. Council members address issues in their local region and assist business units in achieving their diversity and respectful workplace objectives. The council increases awareness and understanding regarding the value of leveraging differences for Husky's business success.
Prince George
Live.
Located in northern British Columbia, Prince George has a population of over 80,000 people. The city is a growing community with significant focus on health services, forestry, mining, transportation, and oil and gas.
Work.
Husky's operations in Prince George are part of the Company's Downstream business. The Prince George Refinery produces gas and diesel, and markets road asphalt from Husky's asphalt refinery in Lloydminster.
Play.
With the forest right at your doorstep there are plenty of outdoor activities available year round. The area provides world class cross country ski trails and three ski hills. Other outdoor activities include fishing, hunting, biking, camping, and golfing. The city also has a vibrant music and theatre scene.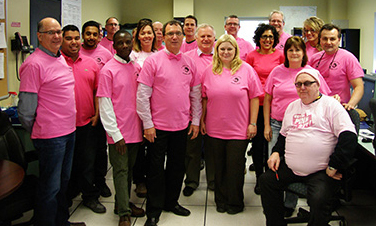 Staff taking a stance against school and workplace bullying by wearing pink.
Sunrise Oil Sands
Live.
Located 60 kilometres north east of Fort McMurray is Husky's Sunrise Energy Project. Employees live in two private, on-site camps similar to hotel-style accommodations. Individuals have the option to fly into site from two main hubs in Calgary and Edmonton.
Work.
Situated in the Athabasca Oil Sands, Sunrise has a world class reservoir and is a newer facility, with first oil achieved in 2015. Employees on site work a variety of shift rotations.
Play.
Husky provides freshly prepared meals in a contemporary dining area. During down time, employees use the on-site state of the art recreational facilities including a full size gym with a running track, basketball court, and a weight room with personalized training options. There is a hockey rink on site and group activities include cards, pool, foosball, and ping pong.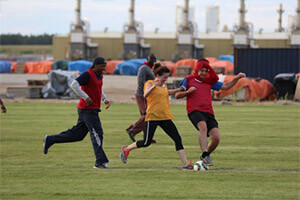 Husky has donated to the Fort McKay Youth Centre in Alberta, where youth can create art, access computers, explore photography and use the recording studio. A contribution was also made to the Kahkiyow Keykanow Elders Care Home in Fort Chipewyan, Alberta which provides assisted living and end of life care for community elders.
Atlantic Region
St. John's
Live.
St. John's is the capital and largest city in the province of Newfoundland and Labrador. This scenic city is home to approximately 200,000 residents.
Work.
The 300 employees in St. John's work in offshore operations in the Atlantic Ocean or in the corporate office.
Play.
St. John's is rich in history, culture, custom and song. In St. John's you'll find a vibrant community, with nearby nature parks for hiking and the Atlantic Ocean where you can enjoy whale watching, fishing and boat tours. The city centre offers a number of unique boutiques for shopping and many restaurants.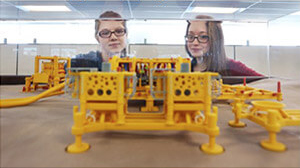 Husky sponsors and provides role models for the Techsploration Newfoundland and Labrador (NL) program, which provides female students in Grade 9 with opportunities to explore trades and technical occupations, while raising awareness about the importance of high school math and science. Husky also sponsors the Women in Science and Engineering NL Student Summer Employment program, which provides Grade 11 students with eight-week summer placements to explore career opportunities in science and engineering.
USA
Lima and Dublin
(Ohio)
Live.
Allen County has a population of more than 100,000 residents, and includes the city of Lima. Dublin has a population of more than 41,000 people and is minutes from Columbus.
Work.
Husky's Lima Refinery produces approximately two billion gallons of refined petroleum products annually, including approximately 25 percent of the gasoline consumed in the state of Ohio. It also produces diesel and jet fuel. Husky's office in Dublin includes the Commodities and Marketing group as well as support groups such as finance. These employees work closely with the team at the Lima Refinery.
Play.
The Allen County fair, running since 1851, brings many visitors to the area. A nature highlight of Allen County is the Kendrick woods, which has scenic trails with woodlands and beautiful spring flowers. Recreational activities in both Allen County and Dublin include arts and theatre, sports and attractions for all ages.
Husky Energy is an affirmative action employer and we are committed to providing equal employment opportunities to qualified applicants without regard to age, disability, genetic information, gender, gender identity, sexual orientation, race, color, religion, veteran status, or other personal or physical characteristics protected by law.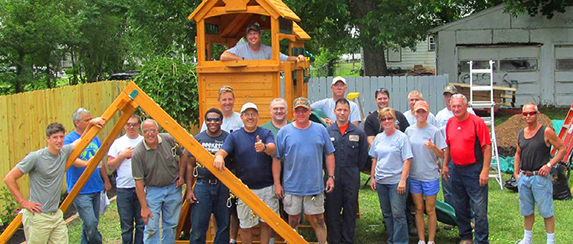 Husky's employees in Lima are actively involved with local organizations and groups, helping to improve the quality of life for their neighbours. The refinery supports the Science Enhancement program which encourages students to develop a lasting interest in science.
Superior, Wisconsin
Live.
Superior is a city in, and the county seat of, Douglas County in the state of Wisconsin. Located at the junction of U.S. Highway 2and U.S. Highway 53, it is immediately north of and adjacent to both the Village of Superior and the Town of Superior. Its neighborhoods include Billings Park, North End, South Superior, Central Park, East End, Allouez, and Itasca. Billings Park, South Superior, East End, and North End each have small business districts.
Work.
The Superior Refinery is a producer of high-quality, specialty hydrocarbon products including specialty oils, solvents, lubricants, asphalt, fuels, waxes, petrolatums, and hydrocarbon gels. The employees of the Dublin Commodities and Marketing group work very closely with the team at the Superior Refinery.
Play.
If you are looking for incredible scenery, fun attractions, beautiful outdoor adventures, events, or year-round recreational opportunities, Superior has something to fit your needs. There is much to offer visitors and residents including historical and natural sites, as well as a growing industry and economy. unique communities are nestled on the western tip of the Great Lake Superior. Whether you are looking for incredible scenery, rich history, rare attractions, colorful events or year-round recreational opportunities, Douglas County has something.
Husky Energy is an affirmative action employer and we are committed to providing equal employment opportunities to qualified applicants without regard to age, disability, genetic information, gender, gender identity, sexual orientation, race, color, religion, veteran status, or other personal or physical characteristics protected by law.
Asia Pacific
Asia Pacific
Live.
Within Husky's Asia Pacific Region, employees have the opportunity to live in Shenzhen, Hong Kong, Taipei, or Jakarta.
Work.
The Asia Pacific Region is a significant growth area for Husky, employing over 150 people. In 2014, Husky achieved first production at the Liwan Gas Project, located offshore China in the South China Sea. Additionally, Husky is developing gas projects offshore Indonesia.
Play.
Activities in the Asia Pacific locations range from sports to world renowned shopping. Residents also enjoy local festivals, movies and KTV (karaoke). Many people also take the opportunity to travel throughout Asia and sight-see.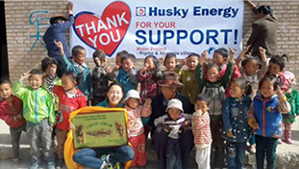 Husky worked with Captivating International, a non-profit organization working in China to fight poverty, and to install a water tank, piping and taps at each house in the village of Rigmo.
Other Canadian Locations
Live.
Employees located in Husky's small-scale operations experience a strong sense of community. Benefits include a work life balance and the convenience of nearby amenities.
Work.
Husky operates in many communities throughout Western Canada.
Play.
Husky's locations are close to regional and provincial parks, where people can enjoy camping, fishing and boating. Residents become an integral part of their communities.
The Community Investment Program strengthens Husky's relationships with the communities where it operates. Investments focus on health, education and community initiatives. A few examples are:
A contribution to the new Paradise Hill Community Hall, to create a gathering point for residents.
A donation to the Canadian Red Cross to assist with response and recovery efforts after a damaging flood in Saskatchewan.
A contribution to the Cold Lake Hospital in Cold Lake, Alberta to purchase a cardiac monitoring machine.